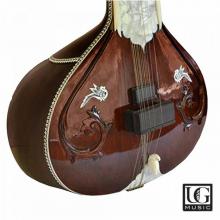 ---
LESS is MORE is a relatively new phenomenon in the world of design. Ustad Vilayat Khan, (a pioneer in music) turns out, has also become the pioneer in design with his modest yet sophisticated Sitar ! When asked why he plays such a "plain" instrument, he allegedly offered a tongue-in-cheek reply about wanting to play handsomely rather than own something that looks beautiful and play with moderate grace.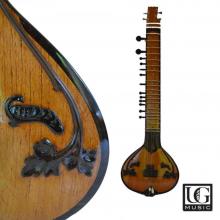 ---
This week for #ImplementsOfSound, we are basking in the glory of this absolutely gorgeous concert grade flat Sitar from our collection. Available in the reverse finish, (light background + dark wood work) as opposed to the regular Gandhar Pancham models (dark background + light wood work). Carved out of robust red cedar wood, ornately designed teak wood work, ebony bridges and guitar tuning pegs make the tuning process a breeze !
What's more ? The instrument is so light and so easy to carry around because it has a flat toomba.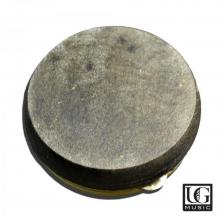 ---
The Kanjira is a small drum that makes a big impact. Mostly used in South Indian percussion, the Kanjira or Khanjira or Ganjira was initially used in South Indian folk percussion. Traditionally the Kanjira was used as a temple instrument, as a single frame drum. It was eventually modified with the single pair of jingles. It was brought into the classical genre as a "upa-pakka-vadyam" or an instrument of accompaniment.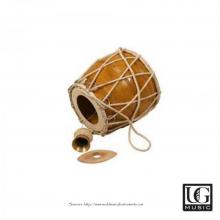 ---
What is this peculiar looking instrument ?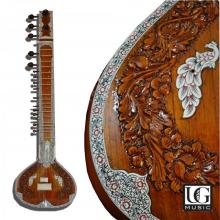 ---
After celebrating Pandit Ravi Shankar, the man himself, lets celebrate his contribution to Indian music. The legend has immortalised the Sitar with such fervour that the design of the Sitar he played was hence forth called the "Ravi Shankar" Sitar. Earlier called the Kharaj Pancham Sitar, with the ornate, hand crafted, angur patta design is made from Red Cedar wood and is a little larger than the other design which is the Gandhar Pancham Sitar.
---
Our #ImplementsOfSound features a popular percussion instrument this week. The Tabla has been around for over 5 centuries ! While the roots of the Tabla are still being debated upon, between the Turkish and Mughal armies, the Tabla gained prominence in all the South Asian countries. The versitality of the Tabla is unparalleled hence the percussion instrument can be played in almost all kinds of music.