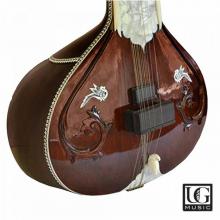 ---
LESS is MORE is a relatively new phenomenon in the world of design. Ustad Vilayat Khan, (a pioneer in music) turns out, has also become the pioneer in design with his modest yet sophisticated Sitar ! When asked why he plays such a "plain" instrument, he allegedly offered a tongue-in-cheek reply about wanting to play handsomely rather than own something that looks beautiful and play with moderate grace.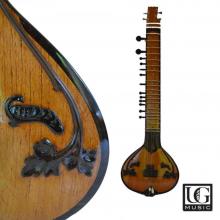 ---
This week for #ImplementsOfSound, we are basking in the glory of this absolutely gorgeous concert grade flat Sitar from our collection. Available in the reverse finish, (light background + dark wood work) as opposed to the regular Gandhar Pancham models (dark background + light wood work). Carved out of robust red cedar wood, ornately designed teak wood work, ebony bridges and guitar tuning pegs make the tuning process a breeze !
What's more ? The instrument is so light and so easy to carry around because it has a flat toomba.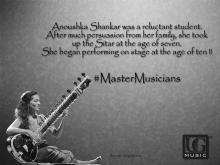 ---
Anoushka began training on the sitar with her father Ravi at the age of seven. As part of her training, she began accompanying him on the tanpura at his performances from the age of ten, soaking up the music and becoming acclimatised to the stage.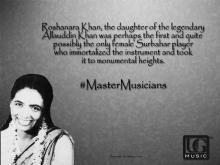 ---
For this week's #MasterMusicians, we bring to you a legendary musician who was lost in the pages of the illustrious history of an eminent family.
The story begins as a daughter is born in a musical family and has had her training on a string instrument that no woman had ever attempted playing. Her life reached a high point when she reached the zenith of her professional and personal life at once. But suddenly gave up her celebrated career for the bliss of family life.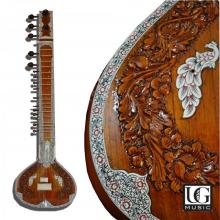 ---
After celebrating Pandit Ravi Shankar, the man himself, lets celebrate his contribution to Indian music. The legend has immortalised the Sitar with such fervour that the design of the Sitar he played was hence forth called the "Ravi Shankar" Sitar. Earlier called the Kharaj Pancham Sitar, with the ornate, hand crafted, angur patta design is made from Red Cedar wood and is a little larger than the other design which is the Gandhar Pancham Sitar.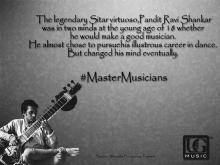 ---
Rabindra Shankar, the son of a barrister and a singer, the brother of a dancer and a theatre artist, always appreciated the duality of human nature.
Hence, at the age of 18, he decided to give up a career in dance and firmly stuck to his decision of following his lifelong passion, that of music.
This week, in Master musicians, we celebrate the maestro of Sitar, who not only inspired us by his music, but also his spirit that said its never too late to follow your dreams !